A CYCLING ADVENTURE
LIKE NO OTHER
Introducing the inaugural Vuelta Ciclista a Lanzarote! This non-competitive long-distance cycling event covers all municipalities of Lanzarote island, attracting enthusiasts and competitors alike. Participants can complete the island tour at their own pace over two stages, totaling 180 kilometers.
With refreshment points transforming into vibrant "fan zones," a festive atmosphere awaits spectators and athletes. Organized by Club La Santa, supported by the Island Council, and endorsed by the Canarian and Spanish Cycling Federations, this event celebrates the spirit of Cycling for All.
Join us for a remarkable cycling experience, inspired by international guidelines and set against Lanzarote's breathtaking landscapes.
DATES: 28.09.24 - 29.09.24
Registration will be available from 16th October 2023
REGISTRATION
INCLUDES
Race organization, traffic management, volunteers
Race day on-course nutrition at aid stations
Participant Bike Jersey (for participants that sign up before the 19th March, 2024)
Participant Bike Bottle (for participants that sign up before the 19th March, 2024)
Finisher medal
Finisher certificate
Timing and race results
First aid assistance
In stage 1 and 2 of the Vuelta Ciclista a Lanzarote (110km + 70km), athletes from the Junior category to the Master 60 category can participate.
In stage 2 of the Vuelta Ciclista a Lanzarote (70km), athletes from the Cadet category can also participate with authorization from their parents or guardians.
Cadets: 15 & 16 years old (can only participate in stage 2).
Juniors: 17 & 18 years old.
Sub 23: 19 to 22 years old.
Elite: 23 to 29 years old.
Master 30: 30 to 39 years old.
Master 40: 40 to 49 years old.
Master 50: 50 to 59 years old.
Master 60: 60 to 75 years old.
PRICES FROM THE REGISTRATION OPENING
2 Stages: 85€
1 Stage: 45€
PRICES FROM 19TH MARCH 2024
2 Stages: 85€
1 Stage: 45€
Does not include Bike Jersey and Bottle
PRICES FROM 20TH AUGUST 2024
2 Stages: 115€
1 Stage: 60€
Does not include Bike Jersey and Bottle
PRICES FROM 17TH SEPTEMBER 2024
2 Stages: 155€
1 Stage: 80€
Does not include Bike Jersey and Bottle
A transfer of the race entry to another person or another year is not possible.
Cancellation requests must be sent to: vuelta@clublasanta.com
From 16th October 2023 – 29th May 2024: 75% refund of entry fee.
From 30th May 2024 – 29th August 2024: 50% refund of the entry fee.
From 30th August 2024 – 15th September 2024: 25% refund of the entry fee.
From 16th September 2024: No refund.
The regulations applicable to the event will be governed by:
UCI Regulations for Cycling in its Chapter 15 "CYCLING FOR ALL," and the technical regulations of the Royal Spanish Cycling Federation - X Regulations for Cycling for All.
General Traffic Regulations and specific instructions for dynamic sports events on the road, as well as specific instructions for road cycling events, published by the General Directorate of Traffic.
Specific regulations of the Vuelta Ciclista a Lanzarote:
All participants must have a valid Spanish Cycling Federation License (Cycling or Cyclo-tourism) for the year 2024, or pay the one-day license fee (€10 accident insurance) to participate.
Participants will be identified with a wristband, race number, and electronic chip plates on their bicycles for security controls, intermediate checkpoint timing, and final timing.
Participants will not be allowed to start the event if they do not have the following equipment:

Approved and rigid helmet.
Proper clothing for weather conditions (glasses, windproof jacket, arm and leg warmers).
Sufficient water/food for 50km.
Mobile device with the contact number indicated during registration and the emergency number of the Vuelta Ciclista saved.
Rear light.

Cyclists may not receive external assistance (support vehicles, water, food, spare parts, etc.) along the route except at designated refreshment points. Support personnel must be located near the technical areas provided by the organization at the refreshment stations.
When overtaken by the "End of Race" sweep car, participants will be considered out of the race and must surrender their race number, chip, and bike plate. The organization will arrange transportation for both the participant and their bike to the finish line.
Lanzarote is a Biosphere Reserve, and it is the responsibility of all participants to preserve the environment. Therefore, it is strictly prohibited, under the penalty of disqualification, to litter or discard waste outside the designated refreshment points.
CLUB LA SANTA
RACES APP
CLUB LA SANTA
RACES APP
Download Club La Santa Races app for real-time athlete tracking, results and race information for Volcano Triathlon and other races organised by Club La Santa.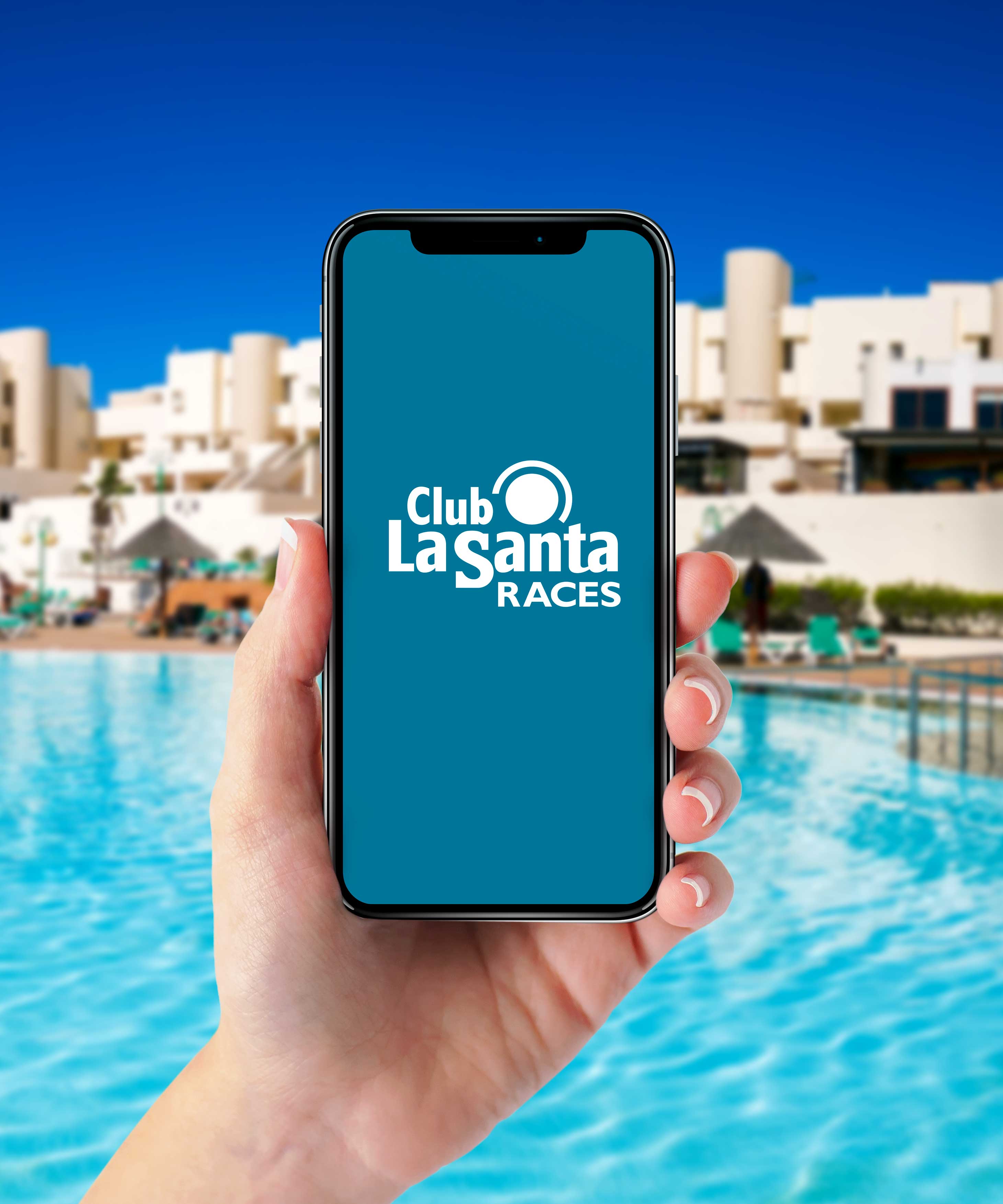 ANY QUESTIONS?
If you have any questions or if there's anything else we can help you with, please get in touch. We're happy to help!
YOU MAY ALSO BE INTERESTED IN