ABOUT THE EVENT
The tournament will start on the Monday and take place over 2-3 mornings or/and afternoons depending on the number of competitors.
To take advantage of all activities, it is important that you arrive at Club La Santa and pay for the event no later than the Friday, so we have time to make the seeding and tournament plan. The programme with training hours will be handed out upon arrival. Games will be played in all categories (mens/ladies singles, mens/ladies doubles and mixed doubles). We will make the tournament plan according to level rather than age.
The tournaments are held according to the pool, cup or "double knock out" system (depending on the number of participants in each category).
Shuttlecocks, t-shirts and prizes for the tournament are kindly sponsored by RSL Shuttlecocks.
As in previous years, it will be possible to practice in the badminton hall during the days before the tournament.
Upcoming events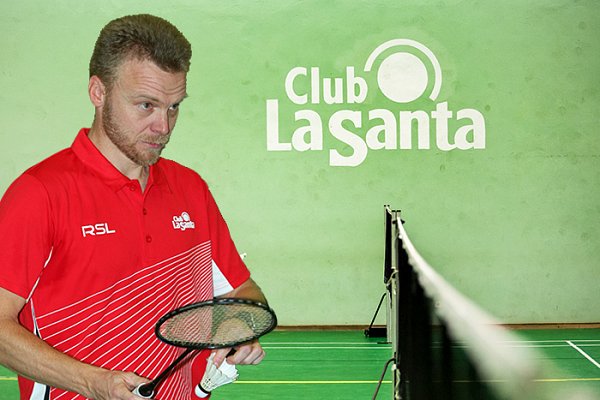 17.00 - 19.00
Individual Training/Matches
---
09.30 - 12.30
Social "Get together" tournament
14.00 - 16.00
Individual Training/Matches
18.30
Welcome Wine & Tapas
---
14.00 - 17.00
Individual Training/Matches
---
11.00 - 11.30
Photo Session & Presentation
11:30 - 14:00
Tournament Start
---
---
19.00
Welcome drink & Prize Ceremony
---
10.30 - 12.30
Social play & "re-matches"
MEET
THE INSTRUCTOR
MEET
THE INSTRUCTOR
Søren Eilby Hansen is responsible for the tournament and has since 1997 worked a total of 8 years at Club La Santa. During some of the years, he joined the local Badminton club in Arrecife both as player and coach. He even managed to win the Canarian Championship 3 times in all 3 categories.
Should you have any questions, you can contact Søren on +45 20153023 or on soren.hansen6@hotmail.com.
MEET
THE INSTRUCTOR
MEET
THE INSTRUCTOR
Troels Johnsen started in 1996 working as a racket sport instructor at Club La Santa and later worked in different positions before he moved back to Denmark. After having left, he has been back on several occasions to help out with event weeks and camps in the area of biking and badminton.
The price is 110€, including a welcome Tapas & Wine arrangement, end final dinner with prices, a t-shirt, entry into the tournaments, shuttles and awards for winners and 2nd place participants in each category.
Please remember to sign up any companions for the dinner Wednesday evening by ticking off the box on the entry form here below.
Places are limited, early booking is advisable to avoid disappointment. Please note that the camp is restricted to guests staying at Club La Santa.
From time to time, there are not enough participants in an event to ensure that everyone can enjoy a good experience, in which case we reserve the right to cancel. This happens rarely and should this occur you would be refunded the full amount of the event.
The age limit for this event is 40+.
ANY QUESTIONS?
If you have any questions or if there's anything else we can help you with, please get in touch. We're happy to help!