ALL SPORT

INCLUSIVE
When you stay at Club La Santa, you get free access to state-of-the-art sports facilities and a weekly programme full of activities with our team of expert instructors, the Green Team. All included in the price of your trip. That's what we call All Sports Inclusive. For you, it means the freedom to do whatever you want, as often as you want.
At the heart of Club La Santa, you'll find Sports Booking, where you can sign up for a huge range of activities, reserve courts, pick up sports equipment like rackets, yoga mats and swimming gear, buy balls and much more.
Sports Booking is open daily from 08:00 to 19:00.
BOOK WITH
THE APP
BOOK WITH
THE APP
Book courses and equipment and sign up for activities at the touch of a button with the Club La Santa app. Sports Booking via the app is available 24 hours a day, and you can start booking 1 hour after check-in. Find out how to book sports and activities here.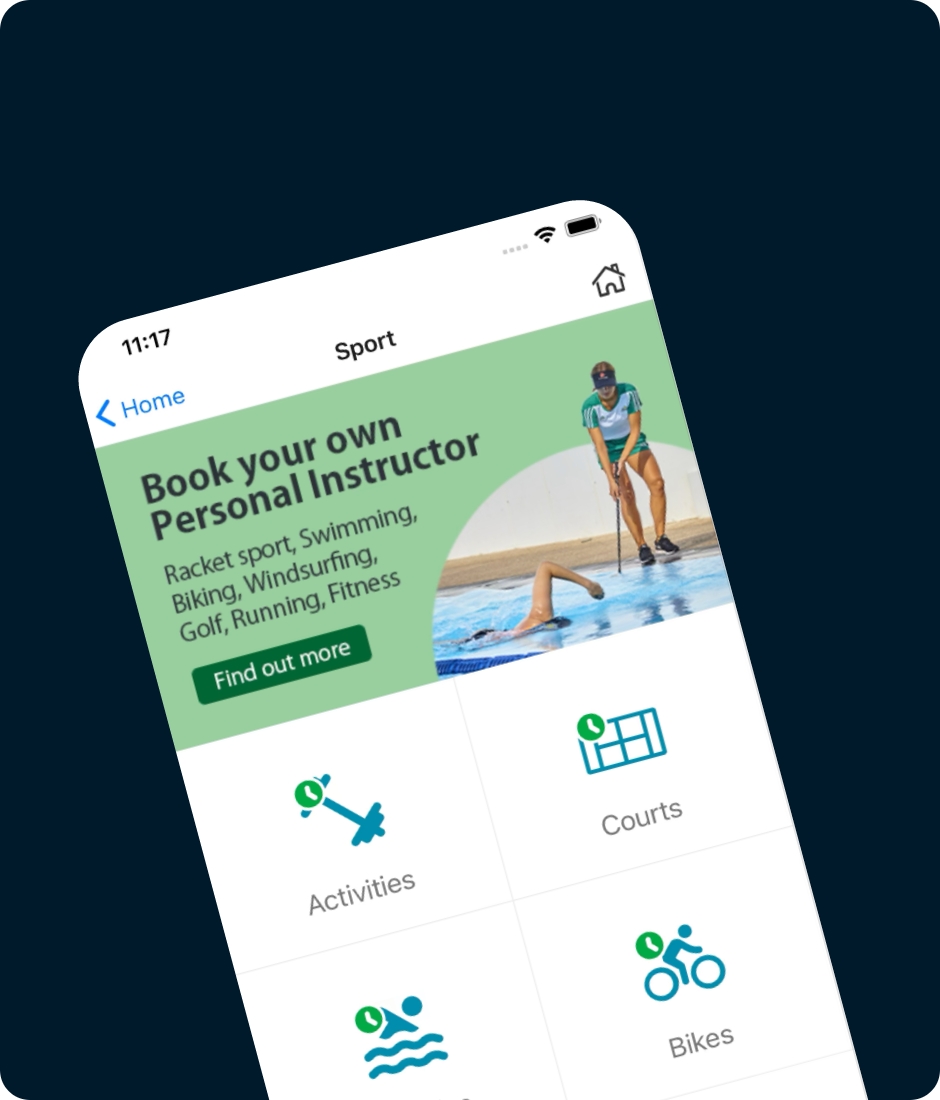 You can enjoy virtually all of Club La Santa's sports facilities, included in the price of your stay. You may use the tennis, padel and squash courts, swimming pools, beach volley area, CrossFit and much more. However, some of our facilities are not included, like the Diving Centre and the Sports Performance Studio.
You can borrow rackets, bikes and other equipment for free too. Either bring your own racket balls or buy them in Sports Booking.
Check out our weekly programme to see all the activities going on at Club La Santa in the following two weeks. Here, you have the chance to take part in all kinds of team classes, tournaments, competitions, kids' club and entertainment. Private classes, event weeks, excursions and some workshops are not included in the stay, but you can book these before or during your holiday.
You can borrow equipment for both children and adults in Sports Booking, free of charge. We have:
Rackets and bats
Volleyballs, footballs and handballs
Yoga mats
Swimming equipment: aqua joggers (waist belts), boards, hand paddles, flippers for the pool
Climbing shoes
Baby joggers
All equipment is available for loan in exchange of 1 token. You have the same number of tokens on your key card/key fob as the number of people in your apartment. If you are staying with 4 people, you have a total of 4 tokens to borrow equipment. You get your tokens back when you return the equipment to Sports Booking.
Tennis, padel, squash and shuttle cocks are not included. These you can buy in Sports Booking.
We always try to ensure we have enough equipment for everyone, but please note that borrowing equipment is subject to availability.
Download the Club La Santa app for free on your smartphone or tablet via the  App Store or Google Play.
If you provided your email address when booking your trip, you will receive an email with login information for the app before departure. If not, you can access the app by contacting Sports Booking after check-in. We recommend downloading the app in advance.
Please note that you may book activities only after one hour after check-in at the hotel.
Once you're here on holiday, you will be given a set number of points, which you can use to book activities, classes, bikes, use of facilities, etc.
Once an activity or reservation has ended, the points are returned to you, and you can make new reservations. You can therefore only make reservations for as long as you have points available. After that, you must either cancel a booking or wait until the activity is over.
You can only book an activity if you meet the age and gender requirements and haven't already booked something else for the same time. The same applies to bikes. That way, we ensure bikes, and all other facilities are always available for those who want to use them.
Start booking your activities just one hour after check-in, either in Sports Booking or via our app.
During your holiday, you and the other members of your group will each be given a fixed number of points to book activities, classes, bikes, facilities and more.
Here's how the points system works:
All activities cost a number of points. Activities with limited space are more expensive and many other activities are completely free. You can book as many activities as you have points available.
Points are returned when an activity or booking ends, or if you cancel a booking. You can then make new reservations with the points.
The points system helps to ensure that everyone gets to enjoy the activities and facilities and reduces the number of no-shows. That way, everyone gets to experience the Club La Santa lifestyle!
Borrow road bikes, mountain bikes and children's bikes at Club La Santa's Bike Centre but remember to pre-book through the Club La Santa app or by contacting Sports Booking directly.
Why not treat yourself and rent a carbon road bike (for a fee)? You can reserve one in the Bike Centre and also by online pre-booking. If you book in advance, you must reserve the carbon bike for a minimum of three days.
You can check out which private classes and analyses are offered daily on the Club La Santa app under the activities section. You can also ask about private instruction in other sports directly in Sports Booking. Please note that this is subject to the number of instructors we have available during your holiday. You can book and pay for your private instruction or Sports Performance analysis directly in Sports Booking.
You can make reservations in person at Sports Booking and via the Club La Santa app, one hour after check-in at reception.
You can book activities up to 14 days in advance during your stay.
Once the time frame of the activity is over, you'll automatically get your points back.
Points are returned to you immediately after you cancel a pre-booked activity.
You may cancel only up until 30 minutes before the start time of the activity.
If a group activity or facility you want is fully booked, you can go on the waiting list, which costs the same as a place for the activity.
You may book only one facility, activity, or bike within the same time frame.
You may only reserve a facility or activity if you meet the gender and age requirements.
You may book the same activity twice a day, but a second booking costs double the number of points.
You may only pre-book the same facility once per day for a one-bedroom accommodation.
Guests staying in accommodation with two or more bedrooms may pre-book the same facility twice per day.
For guests staying in multi-bedroom accommodation, the second booking of the same facility or activity on the same day will cost more points when booked in advance.
Due to age and gender rules, you may not reserve a seat on behalf of another person. A reservation cannot be transferred to a third party either. The instructor has the right to refuse people who aren't on the list of participants.
Bikes can be booked up to 14 days in advance with three different time slots during the day. You can combine several time slots, but subsequent slots will cost extra points. You must book bikes before you collect them, either via Sports Booking or the app, including on the day.
To guarantee your place at an instruction or activity, you must be ready at least 5 minutes before the start. From this point on, the instructor will start calling people from the waiting list and people with pre-bookings that don't show up will be put at the back of the waiting list.
10-minute rule: if you arrive 10 minutes after the reservation's start time, other guests may take your place, and your reservation will be cancelled.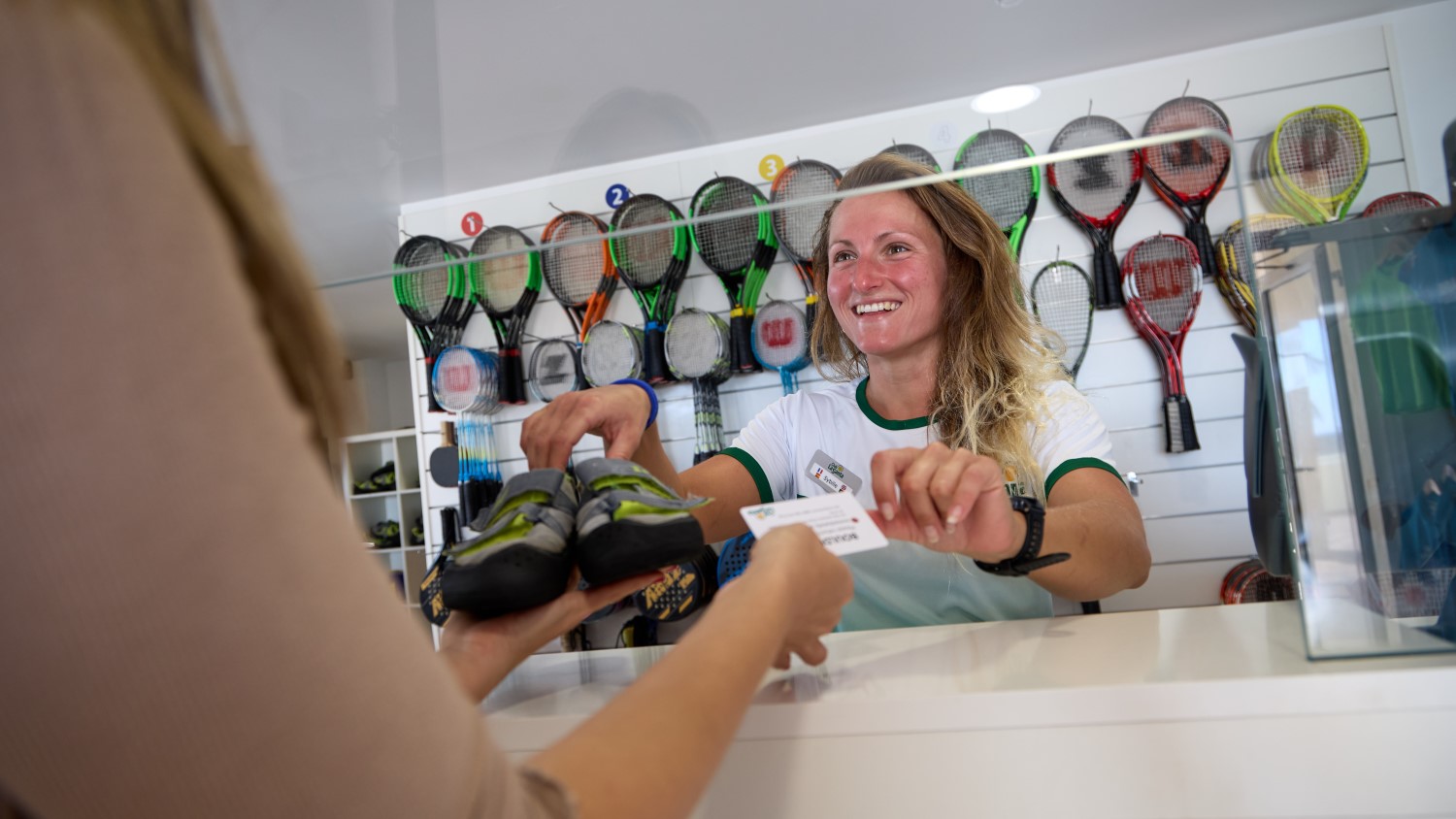 ANY QUESTIONS?
If you have any questions, or if there is anything else we can help you with, you are, of course, always welcome to contact us. We are always ready to help you.