A FUN GAME

FOR EVERYONE
Padel is a fun game that is becoming increasingly popular in Europe. It combines elements of tennis and squash in a fun game where the ball is always in motion.
At Club La Santa, you can play in one of our six padel courts. It's a fun game with simple rules that everyone can enjoy.
Also, why not take part in our weekly, levelled team instruction sessions and tournaments, and learn basic skills and the best techniques.
PADEL HOLIDAY AT CLUB LA SANTA
Use two fingers to navigate around the map
Hold down the left click and drag to navigate around the map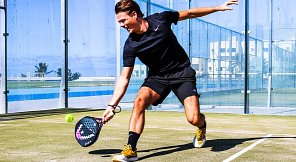 Padel courts
With 6 outdoor padel courts, you'll have plenty of opportunities to play this popular sport.
Read more
You can borrow rackets for both adults and children from Sports Booking. Buy balls from Sports Booking, or bring your own, if you prefer
The 6 outdoor courts are all floodlit, so you can play even after dark. The courts are open every day from 07:15 to 22:15.
Take part in a series of free padel lessons throughout the week, from beginner to intermediate level and from children (over 6) to adults.
You can also participate in both children and adult tournaments, and more experienced players have the opportunity to compete against the Green Team instructors in our weekly "Beat the Green Team" competitions
Get private instruction in padel and learn the basic skills. Learn about serves, strokes and how to use the walls, as well as tactical advice and tips.
Contact Sports Booking during your stay to see available times and prices.
YOU MAY ALSO BE INTERESTED IN