CYCLING HOLIDAY

AMONG VOLCANOES
Lanzarote and Club La Santa truly are the ideal place for a cycling or MTB holiday. And with a pleasant and stable climate, well-kept roads, good paths and stunning landscapes, it's no wonder why.
Borrow or rent a bike and you're on your way. At Club La Santa, adventure is right at your doorstep - whether you're into coastal and volcanic MTB, or road cycling. Lanzarote offers a wealth of exciting routes for beginners, intermediates, and professionals alike.
And after your bike ride, why not enjoy Club La Santa's more than 80 sports and exercise activities or recover in the Wellness Centre?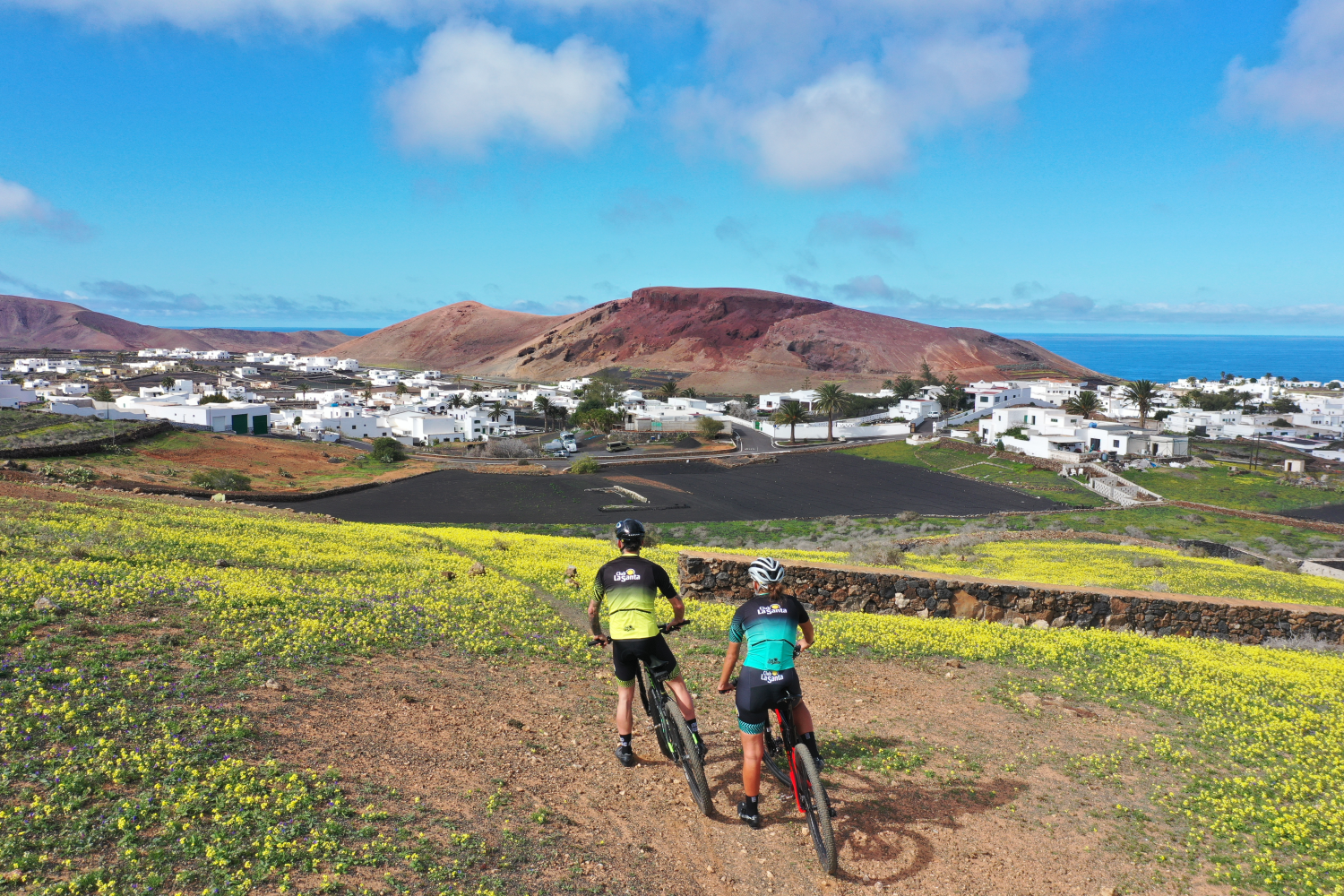 Visit the Bike Centre to borrow road bikes, mountain bikes, city bikes, children's bikes, baby joggers, etc. We have around 600 bikes in different sizes. You book your bike via the Club La Santa app or Sports Booking after check in.
We have the following models available:
MTB: Cannondale Trail 3
Road: Cannondale CAAD Optimo 2020
Citybikes: Cannondale Quick Disc 4
Tandem – Cannondale 29er
Children's bikes (from 12" balance bikes and 16" with training wheels, to 18", 20, 24" and 26" kids bikes)


Are you a serious cyclist who wants to ride only the best? Rent a Cannondale Carbon bike at the Club La Santa Bike Centre. We also have electric bikes for rent, but please make sure to book well in advance to secure yours. Book your bike here.
See the terms and conditions for bike rental here
Helmets are compulsory in Lanzarote, and you can borrow them from the Bike Centre for free.
You can have Look Delta, Look Keo, Shimano SL or SPD mountain bike pedals fitted at the bike centre too - free of charge, of course. Please note that we only have a limited number, however. Bring your own pedals, and we'll be happy to fit them for you.
BICYCLE
WORKSHOP
BICYCLE
WORKSHOP
Give your bike a pro peloton service to ensure it's in top condition for your cycling holiday.
Our team of professional bike mechanics is there to give your bike a complete safety check, help you disassemble and unpack your bike, adjust gears and brakes, and fix your wheels. You will receive an invoice for the work done and spare parts when you pick up your bike.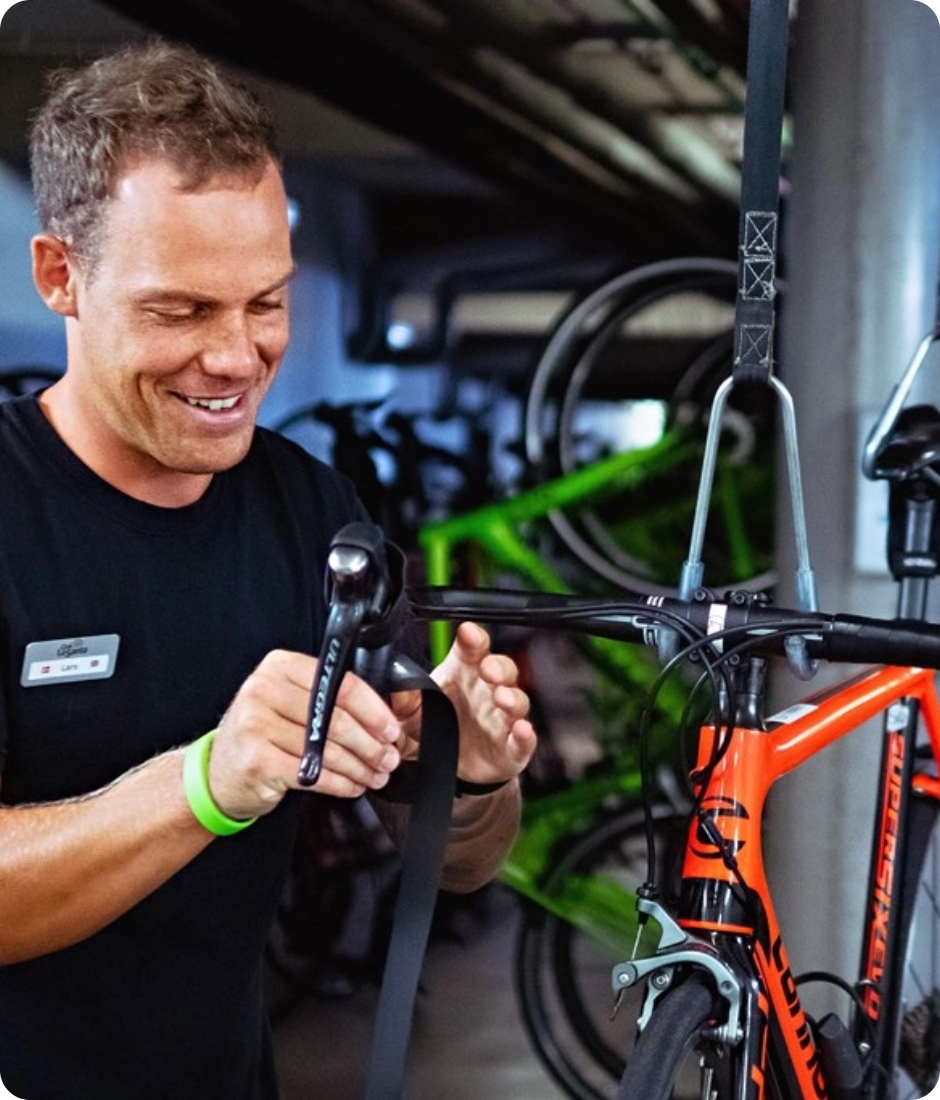 At the Bike Centre you can borrow road bikes, mountain bikes, city bikes, tandems, and children's bikes, all included in the price of your stay. You can also rent bikes designed for cycling races and triathlons, or electric bikes.
We have bikes in many sizes: from running bikes in the smallest sizes, to bikes suitable for adults over 190 cm.
Most of our bikes are Cannondale, and our triathlon bikes are Stevens Bikes.
You can reserve bikes on the Club La Santa app after check-in. You can borrow bikes for specific time intervals of 2 to 3 hours, which you can book in the app. If bikes are available, you can also borrow bikes over multiple time slots.
It's essential that you return the bike before your booked time is up. If you'd like to have a bike over several days, you can also rent a bike from the Bike Centre for an additional fee.
You may rent Cannondale SuperSix Carbon Ultegra, Cannondale Synapse Carbon 105 and Stevens VOLT Di2 Triathlon bikes, for a period of at least 3 days.
We also have E-bikes that you can rent for 1 day.
We recommend booking well in advance to ensure you have the exact bike you want during your holiday.
You may customise rented bikes with your own saddle and other equipment- just ask and we'll do it for you. If you've had a bike fit, we can also adjust the bike to your measurements.
We have a limited number of women's saddles, so we recommend bringing your own if you already know that you tend to experience problems with other saddles. You can count on us to help you fit the saddle.
We do not rent cycling shoes, but you may purchase them in our Sports Shop.
Yes, all bikes come with a saddle bag with an extra innertube and tyre lever, as well as a mini pump and two bottle cages. We also provide a map with contact information for the local taxi companies if you wish.
Yes, the Bike Centre sells an assortment of equipment. You can also find a range of products such as cycling clothing in the Sports Shop.
Insurance is not included in the rent but can be purchased. It is not compulsory to get insurance, but we recommend it. You can also check with your travel insurance if they cover it.
YOU MAY ALSO BE INTERESTED IN