ABOUT THE EVENT
Maria Rasmussen now offers a number of tennis weeks where you have the opportunity to receive a very targeted and individual tennis instruction, and come home from your active holiday as a better all-round player.
The participants will be working with individual goals depending on level and ambitions. This could vary from wanting to learn how to hit a topspin forehand to learn a kick serve. No goal is too big - or too small, they just need to be realistic.
With her great passion and love for the game, Maria and her team of instructors delivers tennis instruction and video analysis at a high level. Each theme will be a mix of theory, exercises and playing with and against the other participants.
14:00 - 17:00
Video recording
19.00 - 22.00
Individual video analysis
---
11.00 - 12.30
Training, exercises and play
Focus: Tactics & Exercises
16.00 - 17.30
Training, exercises and play
---
10.00 - 11.30
Training, exercises and play
16.00 - 17.30
Training, exercises and play
---
09.00 - 10.30
Training, exercises and play
14.00 - 15.30
Training, exercises and play
---
12:00 - 13:30
Warm up, Leg Work, Tennis Training,
14.00 - 16.00
CLS Single Tournament
MEET
THE INSTRUCTOR
MEET
THE INSTRUCTOR
Maria Rasmussen is besides being educated as a tennis coach, also former elite tennis player with over 21 Danish Championships. She has represented the Danish National Team for more than a decade.
Maria has been running Tennis Weeks at Club La Santa for many years.
Maria puts much emphasis on the aesthetic, mental and the basic technique in tennis. She works with the details and the game's many facets in an easily accessible and understandable way. Maria teaches with a holistic approach, which is based on the individual's physical ability, age and other factors that can be a limiting factor.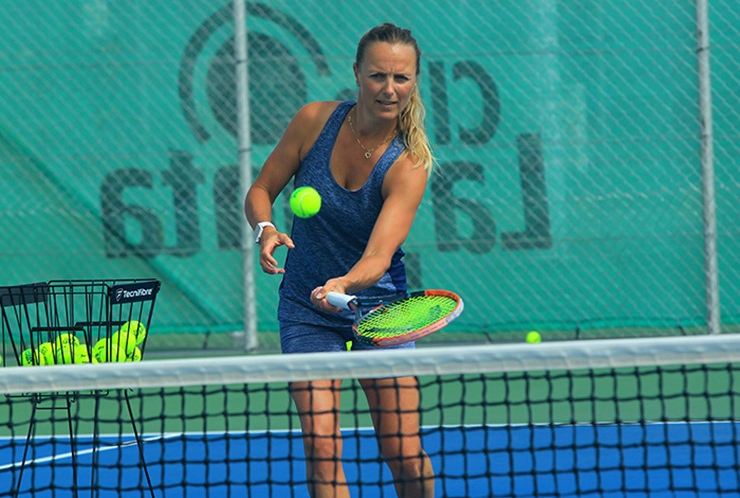 The price for the event is 300€, including all activities in the programme, a t-shirt and the celebratory dinner.
Places are limited, early booking is advisable to avoid disappointment. Please note that the camp is restricted to guests staying at Club La Santa.
From time to time, there are not enough participants in an event to ensure that everyone can enjoy a good experience, in which case we reserve the right to cancel. This happens rarely and should this occur you would be refunded the full amount of the event.
The event is NOT for beginners. To participate on the tennis week you have to be an accomplished tennis player, and master the basic strokes: forehand, backhand, volleys and serve (similar to Club La Santa's "red" level). You should also be able to play a 1½ hour training session.
ANY QUESTIONS?
If you have any questions or if there's anything else we can help you with, please get in touch. We're happy to help!
YOU MAY ALSO BE INTERESTED IN