A CYCLING ADVENTURE
LIKE NO OTHER
Introducing the inaugural Vuelta Ciclista a Lanzarote! This non-competitive long-distance cycling event covers all municipalities of Lanzarote island, attracting enthusiasts and competitors alike. Participants can complete the island tour at their own pace over two stages, totaling 189 kilometers.
With refreshment points transforming into vibrant "fan zones," a festive atmosphere awaits spectators and athletes. Organized by Club La Santa, supported by the Island Council, and endorsed by the Canarian and Spanish Cycling Federations, this event celebrates the spirit of Cycling for All.
Join us for a remarkable cycling experience, inspired by international guidelines and set against Lanzarote's breathtaking landscapes.
DATES: 28.09.24 - 29.09.24
Registration will be available from 16th October 2023
REGISTRATION
INCLUDES
Race organization, traffic management, volunteers
Race day on-course nutrition at aid stations
Participant Race Pack
Participant Bike Bottle
Participant Bike Jersey (for participants that sign up before the 30th June, 2024)
Finisher medal
Finisher certificate
Timing and race results
First aid assistance
AWARDS
All participants that complete the 2 stages will receive:
• Finisher Medal.
• Finisher Diploma: total time and partial times.
• NFT trophy to Top 3 Overall
• NFT trophy to 1st male/female category.
• NFT trophy to 1st Conejero & 1st Canarian.
Classification
Overall winners (male and female) will wear a RED JERSEY at Stage 2.
• By category, female & males.
• By teams (minimum 4 riders), the team leader (best overall time) will wear the WHITE jersey at Stage 2.
• Best time trial time, female & male, will wear the LUNARS jersey at Stage 2.
• Best Conejero/a (Born in Lanzarote).
• Best Canarian (Born in Canary Island).
• Youngest participant (male & female).
• Most veteran participant.
In order to be eligible for recognition, it is essential to have completed both stages.
In stage 1 and 2 of the Vuelta Ciclista a Lanzarote (115km + 74km), athletes from the Junior category to the Master 60 category can participate.
In stage 2 of the Vuelta Ciclista a Lanzarote (74km), athletes from the Cadet category can also participate with authorization from their parents or guardians.
Cadets: 15 & 16 years old (can only participate in stage 2).
Juniors: 17 & 18 years old.
Sub 23: 19 to 22 years old.
Elite: 23 to 29 years old.
Master 30: 30 to 39 years old.
Master 40: 40 to 49 years old.
Master 50: 50 to 59 years old.
Master 60: 60 years and older.
Participants are welcome to team up and take part in this event as a team. You must be a team of four members, either male, female or mixed (2 males and 2 females). The team score will be calculated using the times of each team member in each race. Participants can only be part of one team and team members will also be eligible for individual awards.
Team members must register online as individual competitors and afterwards, Team Captain must confirm the team name and the full name of each team member before 22.09.2024 to vuelta@clublasanta.com
PRICES FROM THE REGISTRATION OPENING
2 Stages: 85€
1 Stage: 45€
Athlete race pack, bike bottle and jersey will be included.
PRICES FROM 1ST JULY 2024
2 Stages: 115€
1 Stage: 60€
Athlete race pack and Bike Bottle are included. Jersey not included.
PRICES FROM 17TH SEPTEMBER 2024
2 Stages: 155€
1 Stage: 80€
Athlete race pack and Bike Bottle are included. Jersey not included.
A transfer of the race entry to another person or another year is not possible.
Cancellation requests must be sent to: vuelta@clublasanta.com
From 16th October 2023 – 29th March 2024: 75% refund of entry fee.
From 30th March 2024 – 29th May 2024: 50% refund of the entry fee.
From 30th May 2024 – 29th July 2024: 25% refund of the entry fee.
From 30th July 2024: No refund.
Road cycling tips in Lanzarote:
The climate is ideal for cycling year-round, with winter temperatures ranging from a minimum of 12°C to a maximum of 20°C, and summer temperatures varying between 20°C and 28°C.
Don't use wheels with a high profile (no higher 50 mm) to ensure greater stability, especially in strong wind conditions.
Carry red lights both in the rear and front if you go cycling very early or before sunset.
Use sunscreen with SPF 50, as UV levels are high.
Wear sunglasses: not only to prevent sun glare but also for better wind protection.
It's advisable to always carry two water bottles, as urban areas where supermarkets or places to buy water are not as frequent.
Cars traveling on the roads generally respect cyclists and must always maintain a distance of 2 meters when overtaking. There are also multiple routes with priority for cyclists.
If you're staying at Club La Santa, you have the option to rent bicycles and avoid traveling with one. They also offer different outings (CYCLING TOURS) every day of the week. If you're staying in different parts of the island, there's a wide variety of bicycle rental options.
One of the most popular routes is the IRONMAN LANZAROTE route, covering 180 kilometers and practically circling the entire island.
The northern part of the island is characterized by its mountainous terrain and includes some mountain passes like Tabayesco, Mirador del Río, Los Valles.
The central part of the island stands out for its vineyards, wineries, and some flat areas like La Geria, Tinguaton, Tinajo.
The southern part of the island is a beautiful region where you can climb through the Timanfaya National Park.
CLUB LA SANTA
RACES APP
CLUB LA SANTA
RACES APP
Download Club La Santa Races app for real-time athlete tracking, results and race information for Volcano Triathlon and other races organised by Club La Santa.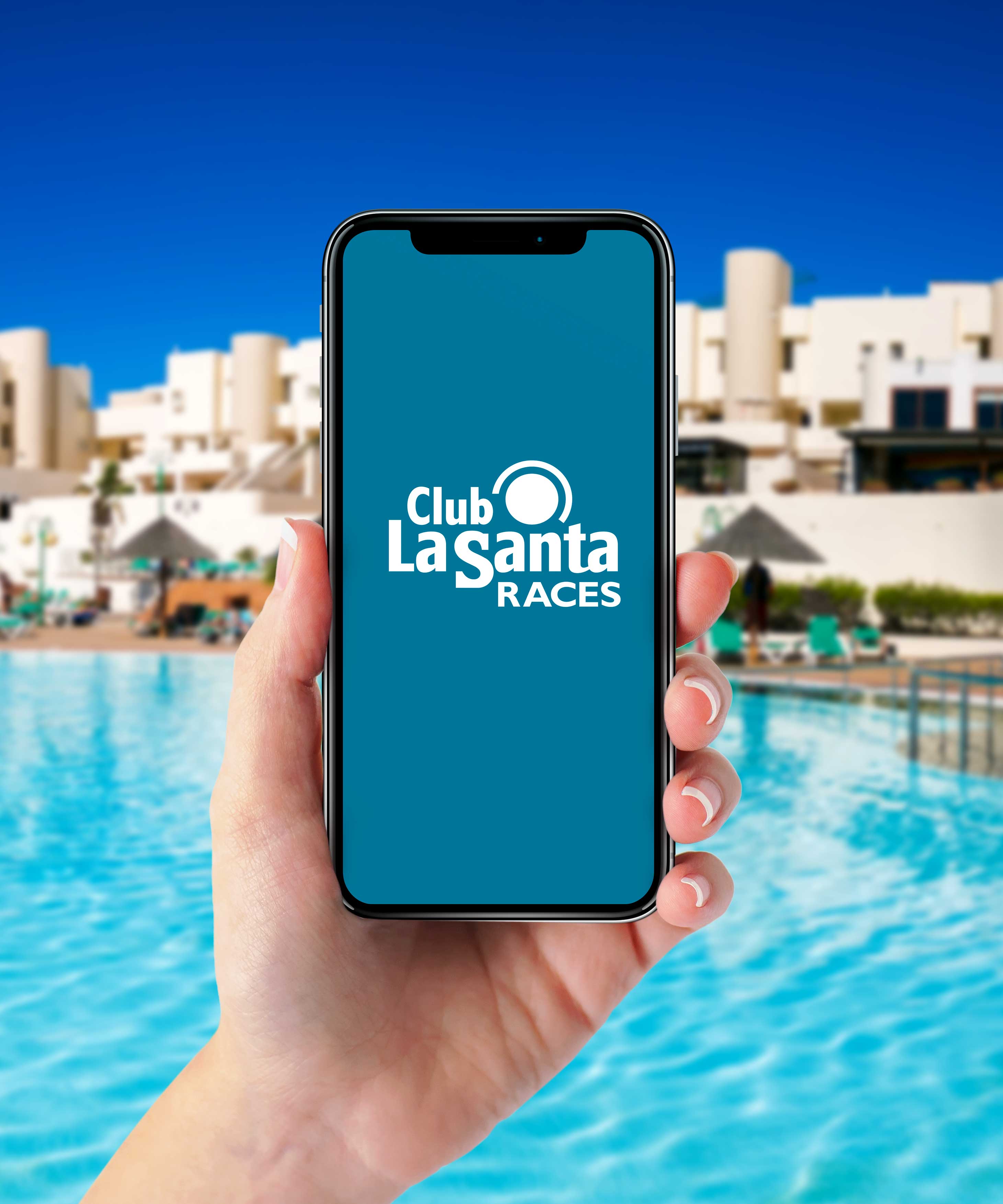 YOU MAY ALSO BE INTERESTED IN