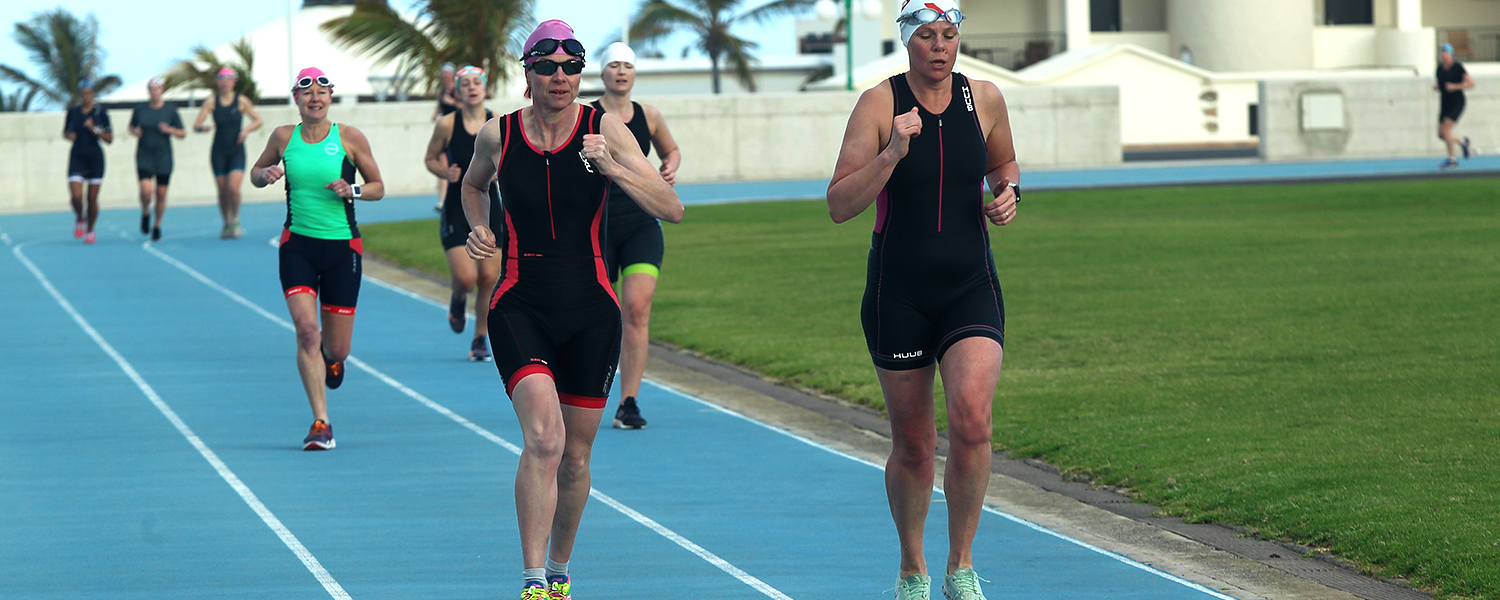 ABOUT THE EVENT
Kick start your 2023 with a week in warmer climate and magnificent surroundings. An amazing sports resort with everything in one place, makes training and having a holiday really simple. During the week you will be coached in all three disciplines, gain confidence, improve fitness while having fun.
The camp brings together women of all ages, all abilities from true beginners or none swimmers or only indoor bikers, to experienced age group triathletes from all nationalities in a fun, confidence-boosting week. It helps the ladies gain skills, improve techniques and experience mixed and multiple sessions a day. The training will take place in many parts of the beautiful island of Lanzarote. Swims will take place in the 50m pool, the Sea and the Club La Santa lagoon (a closed off area of sea). The runs will be both on and off road around the complex as well as on the Club La Santa athletics track. The bike rides will take you to the most beautiful parts of the island on newly tarmacked surfaces.
Upcoming events

10.15
Bike Talk & Ride, Approx. 1½-2½ hrs
18.30
Welcome for late arrivals
---
---
08.30
Long or Short run – 30/60mins
---
07.50
Bus leaves for Puerto del Carmen Open water swim from IM Lanzarote Start point
15.00
Conditioning + stretching
---
09.00
Long Bike Ride – 4-6hrs - Various groups by ability Option 3km run off bike with bike group leaders
---
08.30
Lagoon Open Water Swim Session
11.00
Brick session – Optional distances to be discussed at briefing.
---
08.30
Morning Trot – Optional morning run
MEET
THE INSTRUCTOR
MEET
THE INSTRUCTOR
Tanja Slater is a former GB Elite Professional Triathlete and Professional Cyclist. Tanja has used Club La Santa as a training venue for 9 years and during this time has also been an integral part of triathlon training camps held at Club La Santa. Tanja started her sporting career as an age group triathlete in 2000 and finished 2nd in the Age Group World Championships in 2001 and then progressed onto the World Class programme finishing 8th in the 2003 European Elite Championships. Due to a virus she was forced to retire from triathlon and became a professional cyclist in 2006. She has now re-discovered her love of triathlon and wants to help others to improve by passing on what she has learned over the years
The camp price is 250€, including all the activities during the Women's Only Triathlon Camp, a t-shirt, a Maurten Nutrition pack (only available for pre-signups) and the celebratory dinner
Places are limited, early booking is advisable to avoid disappointment. Please note that the camp is restricted to guests staying at Club La Santa.
Remember to bring your swim equipment and wetsuit; bring your own bike, bike shoes and helmet if possible, if not you can rent bikes for the week (subject to availability) but remember to bring pedals, women's saddle and a helmet.
Please note that bike rental is not inclusive of price - Please book your bike here. If you have any problems booking your bike you can contact us by email: bike.center@clublasanta.com
From time to time, there are not enough participants in an event to ensure that everyone can enjoy a good experience, in which case we reserve the right to cancel up to 6 weeks before the camp starts. This happens rarely and should this occur, you would be refunded the full amount of the event.
ANY QUESTIONS?
If you have any questions or if there's anything else we can help you with, please get in touch. We're happy to help!
YOU MAY ALSO BE INTERESTED IN