ABOUT THE EVENT
This camp offers you an excellent opportunity to prepare for upcoming triathlon races – even for the IRONMAN Lanzarote.
We will be aiming to increase your fitness, while also providing advice on all aspects of triathlon. Athletes joining should be able to swim at least 200m front crawl non stop.
Swim sessions will take place in one of our 50 m pools, the lagoon and the IRONMAN swim course in Puerto del Carmen. The bike rides, with 3-4 groups at varying speeds, will take in most of the island including the IRONMAN course, and the runs will take place on and off road, and with a few sessions on the track.
Week 1 will include participation in the Club La Santa Volcano Triathlon on the second camp day. A discount code will be provided for subscription to the race, but it's not mandatory to participate in the race. Please see the weekly programmes for specific training sessions.
The camp caters for all abilities, from novice to elite, and is also suitable for Olympic distance athletes looking to build their base training.
Additional activities can be seen in the program. Please remember to bring your swim equipment, wet suit, bike shoes, pedals and helmet.
Upcoming events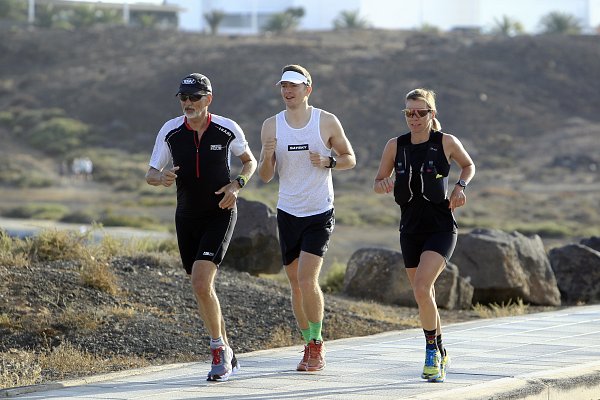 09.00
Welcome meeting and registration
10.30
Bike ride (3 hours)
---
11.00
Cycling (3 hrs) Run off-bike
---
10.00
Bike-Run session (3k, 20k, 6k, 20k, 6k, 20k, 3k)
15.30
Swim session in the 50 m North pool
---
08.00
Sea swim in Puerto del Carmen IRONMAN course followed by 30 m. optional run.
16.00
Core Stability and Stretching
---
08.15
Long bike ride - part of the IM course
17.00
Swim session in the 50 m North pool
---
13.00
Aqua Bike Challenge
---
MEET
THE INSTRUCTORS
MEET
THE INSTRUCTORS
Ain-Alar Juhanson, double IRONMAN Lanzarote and Volcano Triathlon winner (2005+2006). Winner of IRONMAN New Zealand 2006; holds the record for the fastest bike time in the IRONMAN WORLD CHAMPIONSHIP on Hawaii in 2008. Triathlon competitor since 1992 – Pro since 2000 and first IRONMAN in 2002.
Ben Price is a former national junior triathlon champion and has competed at Ironman as a pro during his twenty years of racing. Since his professional days he has been involved in the coaching of swimming, biking and running at Club la Santa and other venues.
The price for the one week is 280€, or 330€ for two weeks, including all activities in the program, including seminars, training and coaching, transportation to Puerto del Carmen, a service car, a weekly dinner and a special event t-shirt.
Entry to the Club La Santa Volcano Triathlon is not included in the camp fee. You will receive a personal discount code once signed up for the camp.
Please note that bike rental is not inclusive of price - Please book your bike here. If you have any problems booking your bike, you can contact us by email: bike.center@clublasanta.com
Places are limited; early booking is advisable to avoid disappointment. Please note that the camp is restricted to guests staying at Club La Santa.
From time to time, there are not enough participants in an event to ensure that everyone can enjoy a good experience, in which case we reserve the right to cancel up to 6 weeks before the camp starts. This happens rarely and should this occur, you would be refunded the full amount of the event.
ANY QUESTIONS?
If you have any questions or if there's anything else we can help you with, please get in touch. We're happy to help!
YOU MAY ALSO BE INTERESTED IN