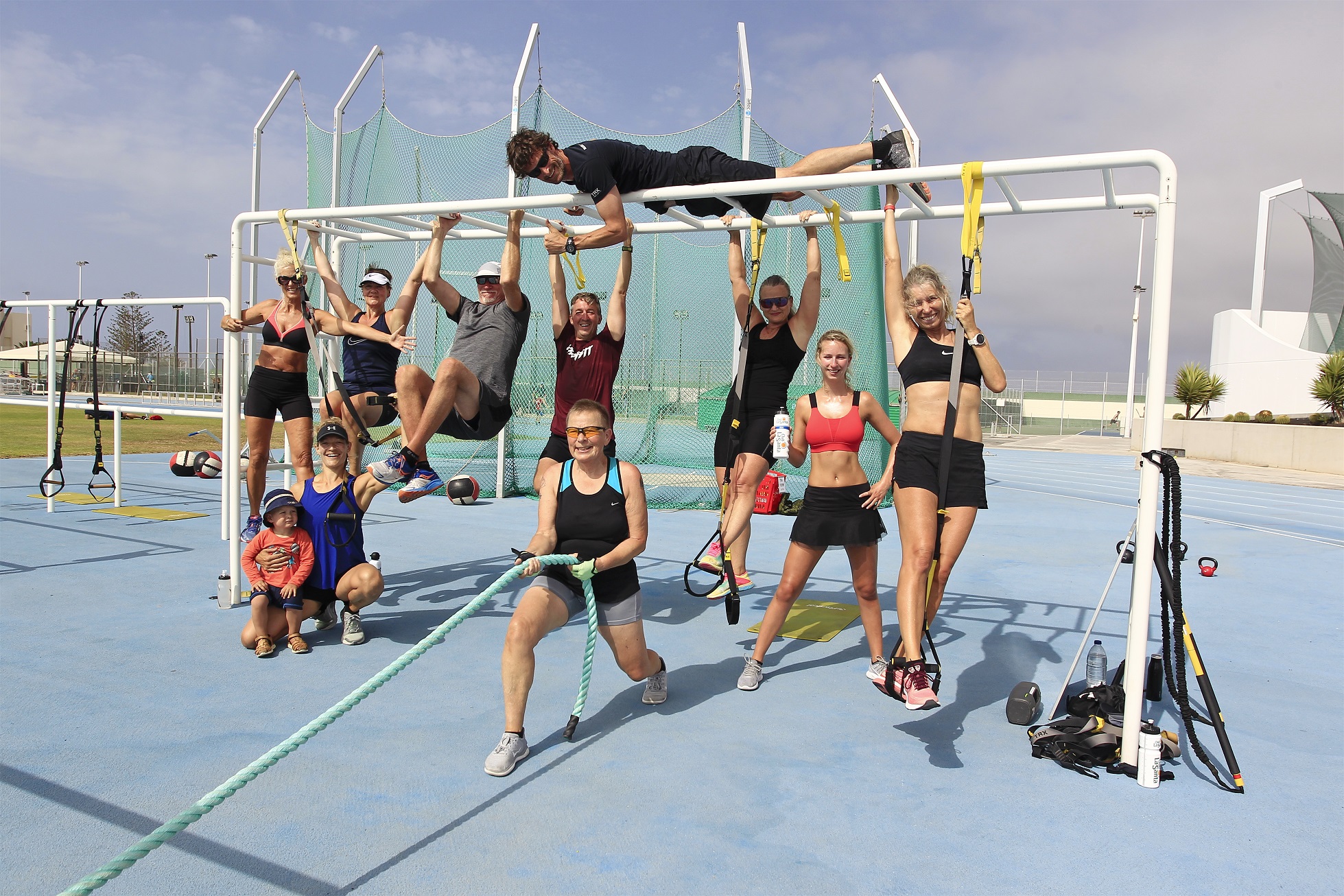 OM EVENTET
TRX er træning for dig, der gerne vil være endnu bedre, til det du gør.
Uanset om dit mål er, at forbedre dine resultater i din sport, bygge en stærkere krop eller om du vil være bedre til at bevæge dig, så kan TRX løfte din træning til nye niveauer. Det eksklusive format med én gennemgående coach og en lille gruppe sikrer dig optimalt udbytte - uanset dit udgangspunkt.
Du bliver stærkere, forbedrer din udholdenhed, bygger corestyrke og forebygger skader.
Træningen er planlagt med udgangspunkt i TRX standarder for træningsopbygning, coaching og kvalitet, og du kommer til at møde andre redskaber og miljøer end de kendte TRX-stropper. Vi træner med kettlebells, reb, medicinbolde, sandsække og meget andet godt. Vi træner både på spændende lokationer på og uden for komplekset - og lidt på stranden (inspireret af Anders' mange år i Forsvaret).
Der indgår en smule løb på bootcampen, og for at få fuldt udbytte bør du være skadesfri og kunne løbe et par km. uden besvær.
Al instruktion er på dansk, og ugen er for alle – du skal bare være fyldt 16 år, og have lyst til at prøve en udfordrende event i selskab med Anders. Medbring tøj og sko til træning og løb – og gerne et sæt, der kan tåle at blive vådt og snavset.
En af dagene skal vi bruge MTBs, sørg derfor for at notere din MTB størrelse i tilmeldingen nedenfor. Du kan se hvilken størrelse du skal bruge ud fra din højde.
Kommende events

15.30
Velkomstmøde og Registrering
---
12.30 - 14.00
TRX Suspension Training 1
17.30 - 18.30
TRX Suspension Training 2
---
08.30 - 10.00
TRX Functional Training 1
16.00 - 17.30
Militærtræning på stranden 1
---
08.30 - 10.00
TRX Suspension Training 2
16.00 - 17.30
TRX Functional Training 3
---
10.00 - 12.00
Militærtræning på stranden 2
---
08.30 - 10.00
Militærtræning på stranden 3
---
10.30 - 12.00
Stjernetræf - Forhindringsbane
16.00 - 17.00
TRX Functional Training 3
MØD INSTRUKTØREN
MØD INSTRUKTØREN
Anders Deenfeldt
TRX Master Instructor og en af verdens højest rangerede TRX-instruktører. Medstifter af det banebrydende træningscenter TRX Aarhus. Specialiseret i funktionel træning, og er drevet at hjælpe klienter af alle træningsniveauer til at bevæge sig bedre. Sara Slott Petersen (EM-guld og OL-sølv, 400 m. hæk) er blandt Anders' personlige klienter - sammen med bl.a. 12-årige tennistalenter, seniorer, rygpatienter og elitemotionister, der alle træner for at blive bedre til det, de elsker at lave. Anders underviser på TRX's træneruddannelser og er dermed 100 % opdateret på den seneste viden. Med næsten 8.000 TRX-undervisningstimer i bagagen er han klar til at give dig den bedst mulige TRX-oplevelse.
Prisen for at være med er 130 €, hvilket inkluderer alle aktiviteter i programmet, en t-shirt samt en afslutningsmiddag.
Der er et begrænset antal pladser, så vi råder dig til at bestille med det samme. Bemærk venligst, at eventen er forbeholdt gæster, der bor på Club La Santa i samme tidsrum.
Fra tid til anden er der for få tilmeldte, til at alle får en god oplevelse med eventet. Derfor forbeholder vi os retten til at aflyse. Dette sker sjældent og skulle det ske, får du naturligvis refunderet det fulde beløb af eventen.
HAR DU NOGLE SPØRGSMÅL?
Skulle du have spørgsmål, eller er der andet vi kan hjælpe med, er du naturligvis altid velkommen til at kontakte os. Vi står altid klar til at hjælpe dig.
YOU MAY ALSO BE INTERESTED IN